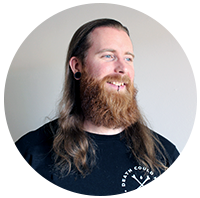 Graphic Designer, Illustrator
Hello! My name is Matt Grice and I am a graphic designer and illustrator located in Amarillo, Texas. My primary focus is merchandise illustration and identity branding. I've worked with many apparel brands, startup companies and clients in the music industry to deliver creative illustration and branding services for over 10 years. I'm very passionate about what I do and strive to hone my craft and learn new skills daily.

I have been obsessed with art since I was a young child. I pursued as many art classes and activities as possible growing up. In 2007, I acquired a copy of Photoshop and began to design gig posters and logos for bands and DJs. Graduating with honors from the Art Institute of Pittsburgh in 2014 helped me to land a full time graphic design position at a local printing and marketing company. In 2015, I officially launched MG Design while maintaining a full time in-house design job.

In my free time, I love to spend time with my family, write music, work out and enjoy the outdoors! I'm a Christ follower and have the benefit of spreading the gospel in a unique way through my design work as well.