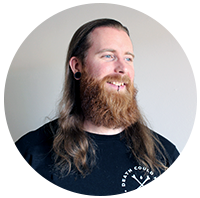 Graphic Designer, Illustrator
Hello! My name is Matt Grice and I am a graphic designer and illustrator located in Amarillo, Texas. My primary focus is merchandise illustration, logo design, branding and hand lettering. I'm a Christ follower, husband, father and musician. I enjoy spending time with my family, being outdoors and working out.
​​​​​​​I have been passionate about art since I was a young child. I pursued as many art classes and activities as possible growing up. After high school, I had several unfulfilling jobs, but slowly continued to grow my freelance career as a graphic artist. After a few years, I finally decided to go to college for graphic design.
I graduated from the Art Institute of Pittsburgh in 2014 with a degree in graphic design. Directly out of college, I was hired as a full time designer for a local printing and marketing company.
In 2015, I officially launched MG Design with the help of my amazing wife Crystal, who helps with the administrative and print production sides of the business. I offer design, illustration and garment printing services.
Thanks for stopping by! I am available for freelance and contract opportunities. If you are interested in working with me, just fill out the contact form and I'll give you a shout!